Archive / RSS
WHY I LEFT GUADALAJARA / SOMETHING YOU MIGHT FIND USEFUL

Tonight, Rafa suggested I try this method of bedtime meditiation he enjoys. So I did, hoping it would land me in some really deep and inspiring transcendental dreams—space travel, maybe, like we'd talked about—but not such vivid images and sensations of drinking tequila through my dick.
I offer for your consideration the clever apparatus that enabled the indulgence: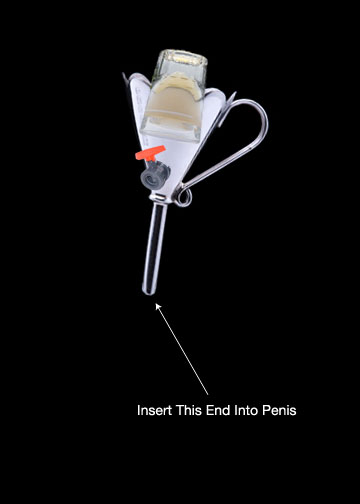 One problem that might inhibit the modest among us: I seem to have thought that the funnel could be worn for a moment and then passed to a friend, just as you initiate a siphon with your mouth and allow the hose to carry on solo while your partner works on the next car's tank. I thought that my friends and I could partake as a group, but I learned quickly that I'd wear the novelty device until the shot glass was empty, or damage my penis and the funnel with it. So nobody could really do anything but stand there and watch.
What you might find of further interest is that the packaging, below, keeps things Kosher for Rite Aid and Duane Reade.
That Man Died Trying to Come
More content in GQ 
We're back.
Dear Friends,
Thank you all for your patience. We have been redesigning the site (all back-end), and as a result, the content trickled off there. We're all very excited about Date Kit in 2008, and we hope that you are as well.
Upcoming events:
Y.R. Fancy Esq. - Looking for love in Mexico City
Mike, has yet another new girlfriend
A Lady answers any inquiry submitted by our readers (please submit all questions to datekit at gmail dot com)
And, (of course), much much more…
Much Love,
DK
Pink Upholstered Vagina Couch (via Count Dacula via Craigslist)
For Sale - beautiful pink "vagina couch" that I made in art school and no longer have space for. The couch is large: measures 5' 3" long, 3' 3" wide at the middle, and stands 2' 3" tall (and is heavy like a couch).
The pics are from my portfolio and are several years old; as a result, the couch has some scuffmarks and stains around the bottom from being moved, but otherwise is in excellent shape. A professional upholsterer helped me build the couch, so it is also functional and durable as a piece of furniture. The couch must be picked up in Mendocino, a 3-hour drive north of SF. I am asking for $600 and a loving home! Call Willow at [deleted] or reply to posting.